The perfect get away home for own stay and/or investment, Encorp Marina Puteri Harbour is located in the highly coveted Iskandar Malaysia development region. Poised to yield outstanding returns, Encorp Marina offers a secure investment, perfect location, and the best in luxe living with proximity to world class attractions, unparalleled views, beautiful intelligent architecture, uncompromising security, and exclusive services. These are just a few of the characteristics that separate Encorp Marina from the rest: simply 360 degrees of perfection.
Here you will find everything you need to know about Encorp Marina @ Puteri Harbour at Nusajaya Johor Bahru (JB).
Introducing Another Super Luxury Condo at Puteri Harbour! Puteri Cove Residences - Latest launch at Puteri Harbour Iskandar Malaysia from only $3xxK!

SMS Your Name & Email to (+65) 91518836 NOW for more info and booking!

Hotline: (+65)91518836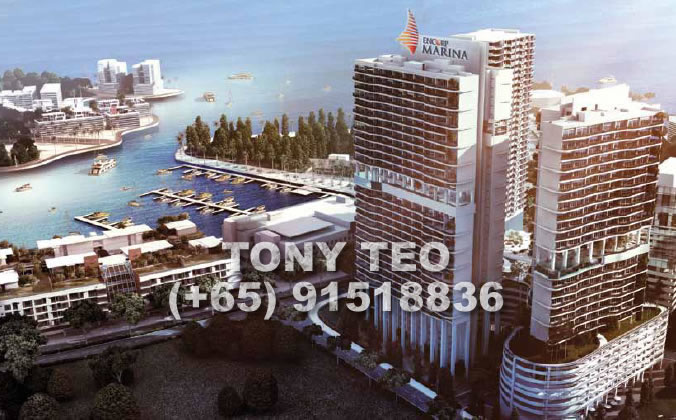 Location Map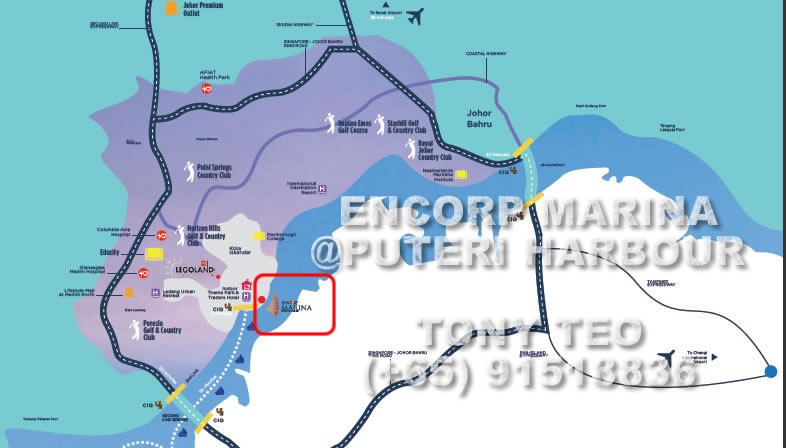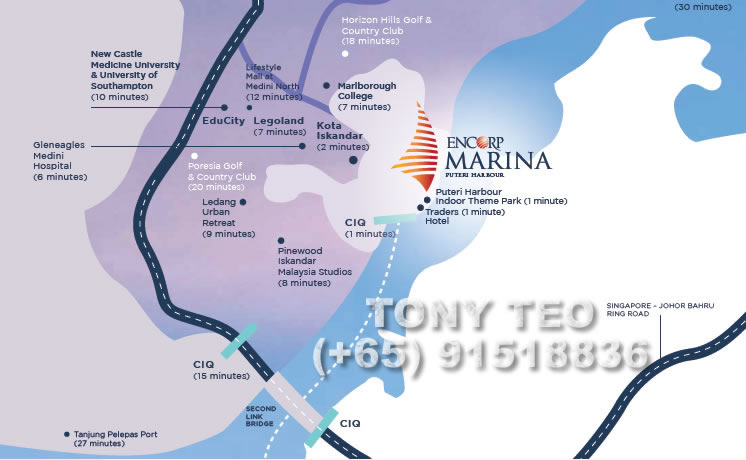 What's Nearby Encorp Marina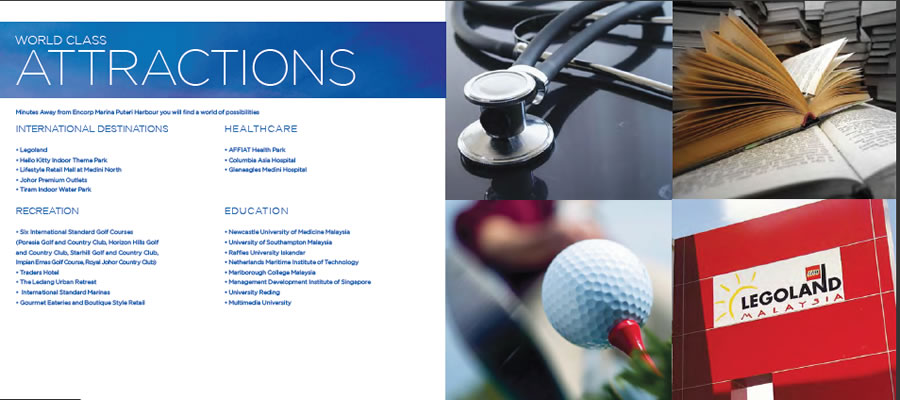 Hotline: (+65)91518836
Why Encorp Marina @ Puteri Harbour - Iskandar Malaysia
| | |
| --- | --- |
| | Rare harbourfront views and lifestyle at very affordable price (now!) |
| | Excellent Design: Comfortable size ranging from 680 sqft to 1,930 sqft. Every unit comes with balcony for water / park view |
| | Strategic Location: Easy accessibility from highway |
| | Accessibility: 15min by water taxi / ferry to Raffles Marina Singapore. 35km from Senai Airport |
| | Tenant demand: 6 institutions within 35km radius, 3 healthcare centres within 10min drive |
| | Relax: Surrounded by 2 golf courses |
| | Convenience: Eateries and entertainment nearby. Lifestyle Retail Mall within 7km |
| | Services: 24-hour concierge providing valet parking and porter services, 24-hour Security System with CCTV cameras, card access control, 24-hour maintenance office, Wireless Internet |
| | Service apartment: Professional housekeeping services (monthly charges apply), Air/seaport pickup (charges apply) |
Encorp Marina is The Perfect Secure Investment
The world class development region of Iskandar, boasts state of the art facilities, excellent infrastructure, world class attractions and services, and is host to some of the most sought after developments in the region. 2012 is the perfect time to look at Iskandar as a viable investment. It is now that it has been earmarked by experts to reach its tipping point; with many of the catalytic projects in the education and tourism sectors, such as Educity and Legoland, being completed and commencing operations.
Iskandar is gaining momentum as a force attracting local and foreign investment and alluring those seeking a new leisure hub.
Possessing and enviable location, Encorp Marina Puteri Harbour is poised to yield an attractive capital appreciation in the near future. In addition, Encorp's track record for quality and excellence, supported by multiple recognitions and awards, assures the savvy investor that this exclusive project will be permeated at every touch point with all the care and detail that make all of Encorp's endeavours anything but ordinary.
Encorp Marina offers the perfect get away investment home or the ideal property for those seeking luxury resort living with the assurance that theirs is a valuable investment.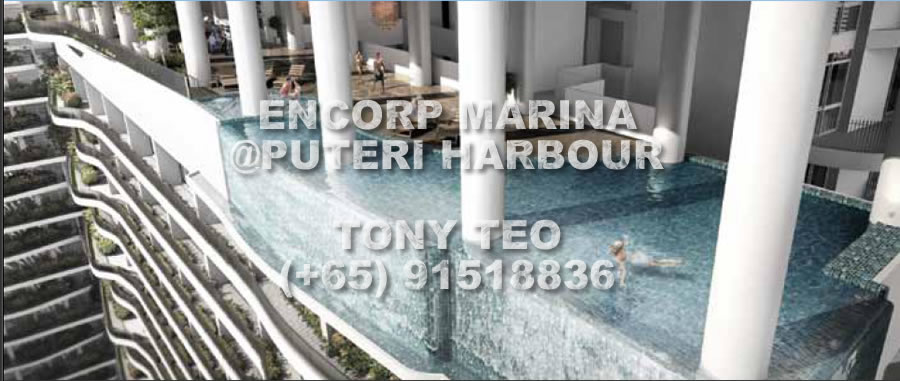 Encorp Marina is Situated in The Perfect Location
Encorp Marina will become the most desired address in Nusajaya. This perfect luxury get away home, is only a convenient 3 hour drive from Kuala Lumpur and a mere 35 minutes from Senai international airport should you choose to travel by air.
Encorp Marina Puteri Harbour offers incomparable proximity to world class attractions such as Legoland, Johor Premium Outlets, Hello Kitty indoor theme park, 6 international standard golf courses, and an integrated network of educational and medical facilities. A 20 minute trip on our private boat will take you to Singapore's Raffles Marina minutes from Singapore's Central Business District and all this vibrant city state has to offer. A world of fun, excitement, culture, shopping and entertainment is at your feet on either side of the causeway.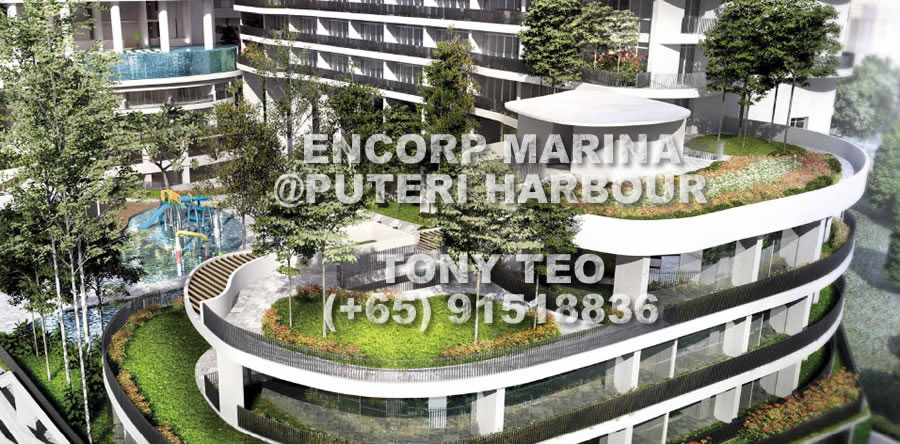 Luxe Living Perfection at Encorp Marina
Encorp Marina Puteri Harbour has been created with the most discerning residents in mind. Location is paramount and with convenient access to a myriad of world class attractions, shopping, entertainment and educational and medical facilities Encorp Marina has an enviable address. In addition Encorp Marina offers priceless views year round, the most sophisticated architecture, designer facilities, top of the line fittings and finishings and world standard security. All these elements and our unique brand of Encorp services combine to ensure that attention to detail is top in our priority list.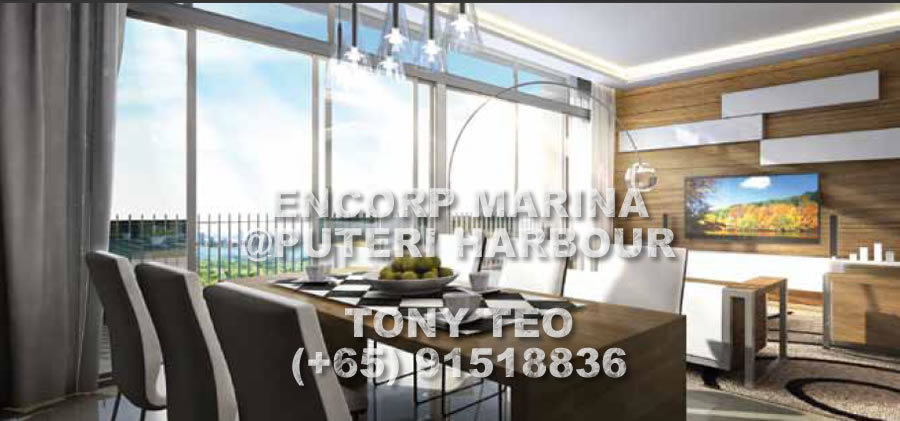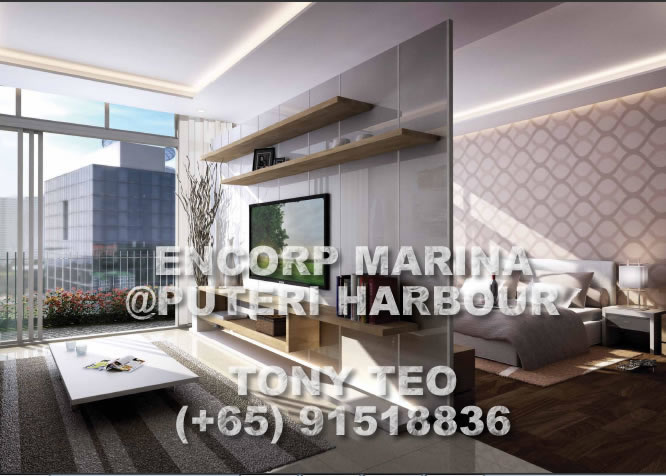 Own a world-class harbourfront property minutes from Singapore!
Interest Absorption Scheme available (no loan payment until TOP)
SMS Your Name & Email to (+65) 91518836 NOW for more info and booking!
World Class Attractions around Encorp Marina
Minutes Away from Encorp Marina Puteri Harbour you will find a world of possibilities
INTERNATIONAL DESTINATIONS
• Legoland
• Hello Kitty Indoor Theme Park
• Lifestyle Retail Mall at Medini North
• Johor Premium Outlets
• Tiram Indoor Water Park

RECREATION
• Six International Standard Golf Courses (Poresia Golf and Country Club, Horizon Hills Golf and Country Club, Starhill Golf and Country Club, Impian Emas Golf Course, Royal Johor Country Club)
• Traders Hotel
• The Ledang Urban Retreat
• International Standard Marinas
• Gourmet Eateries and Boutique Style Retail

EDUCATION
• Newcastle University of Medicine Malaysia
• University of Southampton Malaysia
• Raffles University Iskandar
• Netherlands Maritime Institute of Technology
• Marlborough College Malaysia
• Management Development Institute of Singapore
• University Reding
• Multimedia University

HEALTHCARE
• AFFIAT Health Park
• Columbia Asia Hospital
• Gleneagles Medini Hospital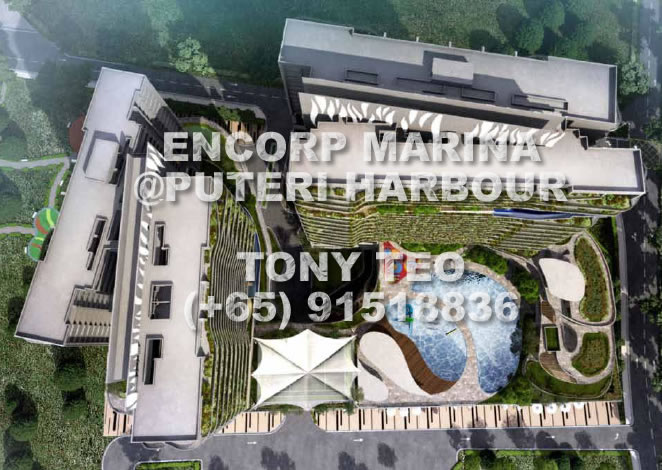 Enjoy Unparalleled Views at Encorp Marina
A private marina and a perfectly manicured park will provide spectacular views from all rooms in each Sky Suite year round. Offering panoramic scenes of the Straits of Johor, this tantalising hybrid of serviced apartments and commercial components has been carefully conceptualized on 3.3 acres of idyllic land orientated to capitalise on the dramatic landscape.
Own a world-class harbourfront property minutes from Singapore!
Interest Absorption Scheme available (no loan payment until TOP)
SMS Your Name & Email to (+65) 91518836 NOW for more info and booking!
Uncompromising Security
Designed to work in tandem with the overall security efforts recently in place throughout Iskandar to make this a safe heaven, our state of the art security system will provide you with peace of mind every day wherever you may be.
Our safe card access system ensures that only residents and guests can gain access to designated areas including parking bays and lift lobby entrances. A comprehensive CCTV network is positioned strategically around the property to cover multiple areas and provide visual monitoring and recording of events for future playback when needed. The car park facilities will adhere to the highest security standards including strategically positioned panic buttons.
Our concierge service will monitor all visitors ensuring that only authorised guests are allowed into the property. Our intruder alarm system is interconnected to our main security desk. This is in turn connected to the relevant authorities providing prompt response when necessary.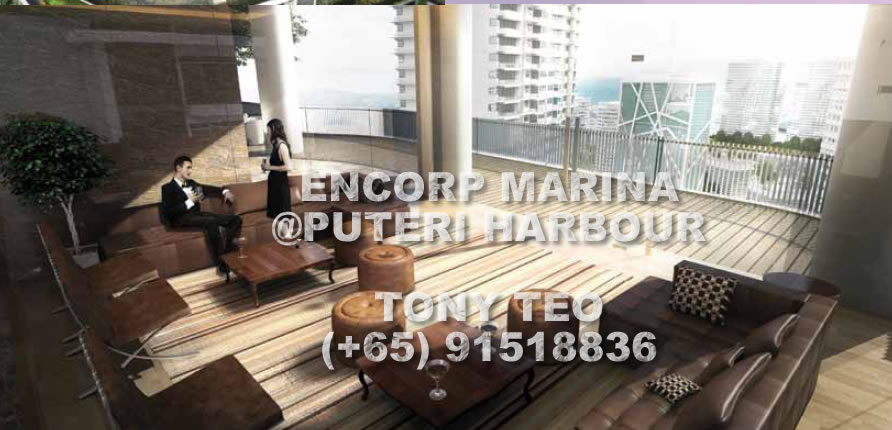 Be Pampered with Exclusive Services offered at Encorp Marina
Encorp's signature concierge service will ensure that you can always get what you need when you really need it. From transportation to and from the marina or ferry landing, to securing your preferred table at your favourite restaurant, confirming your tee off time or making sure that you catch your next flight our concierge service will be ready to assist you twenty four seven.
A selected variety of boutique retail and entertainment spaces will be made available to you at our shopping arcade. You can satisfy that afternoon craving with an artisan cappuccino or enjoy some light retail therapy whenever you desire.
Encorp Marina Facilities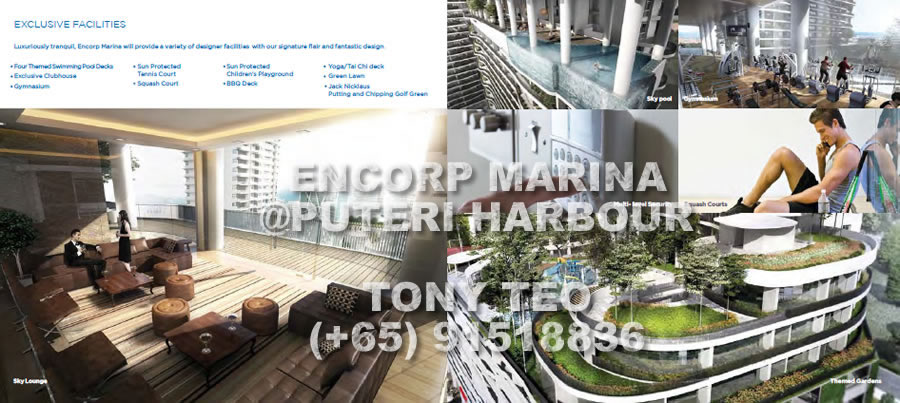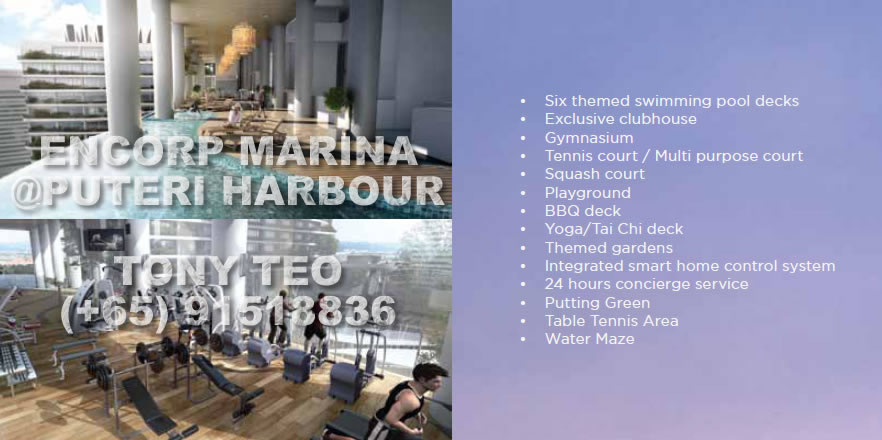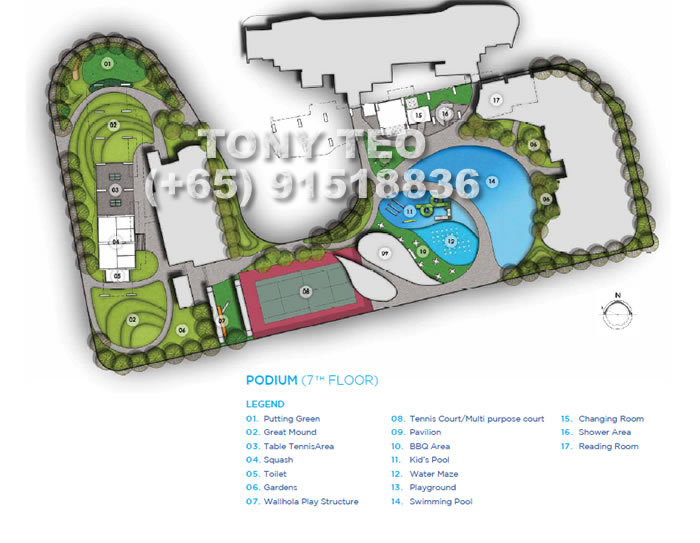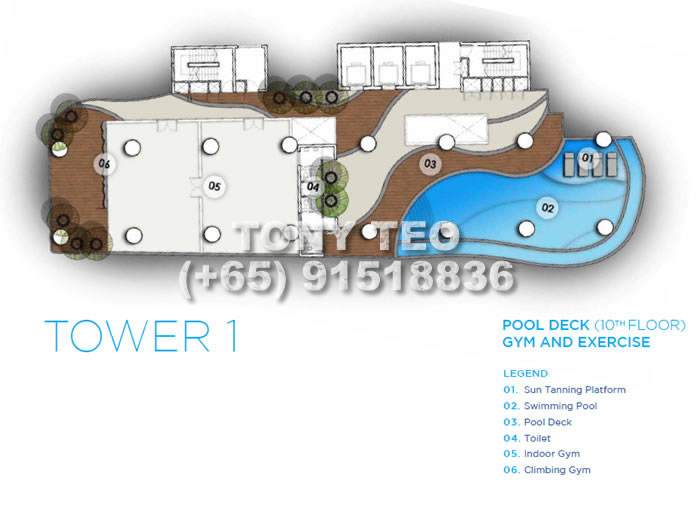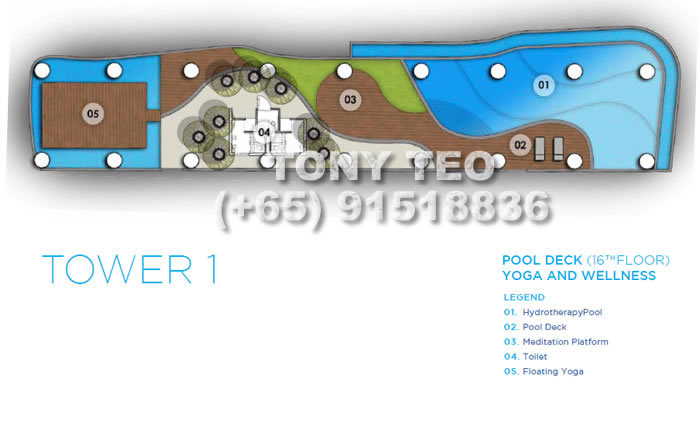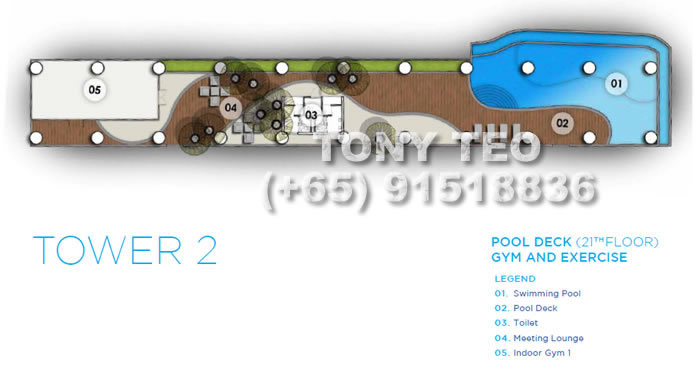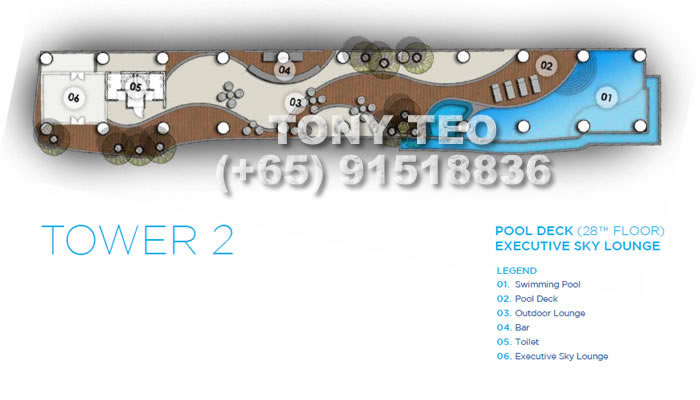 Promotion! Attractive Pricing & Sales Package for Encorp Marina
Easy entry with Low downpayment :
1. 5% rebate + 3% (SPA signed & Letter Offer from banker within 2 weeks) - will be offset from 1st 10% progress payment
2. Deferred Interest Bearing Scheme (or 3% further discount without DIBS / using cash) - will be offset from 2nd 10% progress payment
3. Free legal fees on SPA only
4. Free 1 year maintenance fees
5. Foreign Levy / State Consent Fee on Foreign purchaser absorbed (RM10K levy will not apply to Malaysian purchasers)
6. Full ID package with move-in condition
7. Smart Home Control System
Own a world-class harbourfront property minutes from Singapore!
Interest Absorption Scheme available (no loan payment until TOP)
SMS Your Name & Email to (+65) 91518836 NOW for more info and booking!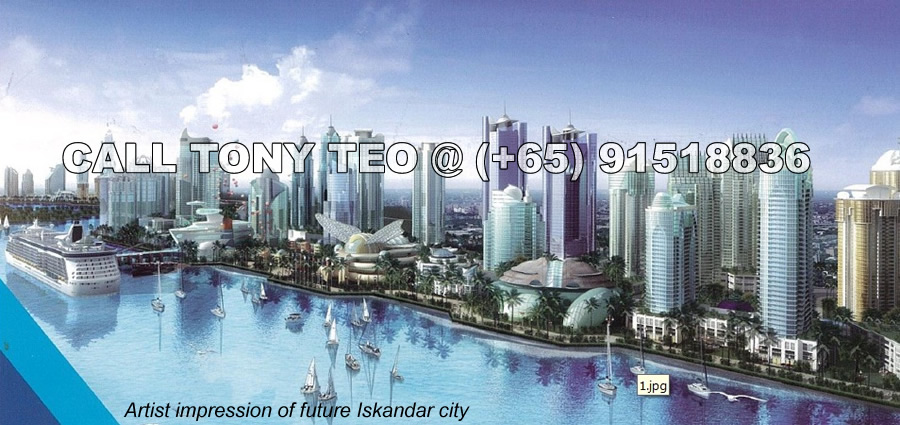 Why Invest in Iskandar Development Region Malaysia?
| | |
| --- | --- |
| | Iskandar Malaysia is set to become one of the most developed economic regions, where living, entertainment, environment and business seamlessly converge within a bustling and vibrant metropois. |
| | Covers land area of 2,217 square kilometres (almost 3 times the size of Singapore and 48 times the size of Putrajaya) |
| | Current population: about 1.4 million (estimated population by 2025: 3 million) |
| | Easily accessible by land, sea and air |
| | 6 to 8 hours flight radius from Asia's burgeoning global markets of 800 million people |
| | Served by 3 major ports and 1 international airport |
| | Sound and stable environment |
| | Competitive wages & low inflation rates |
| | Well-educated and multilingual workforce |
| | Affordable quality housing |
| | Good infrastructure for transportation, communication, education, healthcare |
| | For more information, visit the Iskandar website at www.iskandarmalaysia.com.my |

Why Invest in Malaysia?
| | |
| --- | --- |
| | Malaysia has pro-investment real estate policies (see below) |
| | Steady economic growth rate in the range of 4% to 6%. |
| | The Malaysian housing market fares positively with general year-on-year uptrend. |
| | Malaysia real estate is one of the lowest priced in the region (after Indonesia) and yet it is one of the faster growing economies |

Malaysia's Pro-Investment Real Estate Policies
| | |
| --- | --- |
| | Direct foreign ownership of Malaysia real estate is permitted |
| | Non-residents are free to purchase residential and commercial properties in Malaysia. There is a minimum investment value for property purchase according to the jurisdiction of different states. |
| | No property gains tax if the property is sold after 5 years of ownership. |
| | No withholding tax on property disposal |
| | Repatriation of rental income or profits allowed |
About Encorp Marina Developer:
Encorp Berhad is a public listed company on Malaysia's main board with a Gross Development Value (GDV) of RM 3.4 billion. It has won multiple awards for its outstanding developments including The Edge PEPS Value Creation Excellence Award and The Asia Pacific Property Award amongst others.
Track record include Encorp Strand Mall, Encorp Kota Damansara, Batu Ferringhi Penang, Encorp Cahaya Alam, The Residences on McCallum Lane Perth Australia.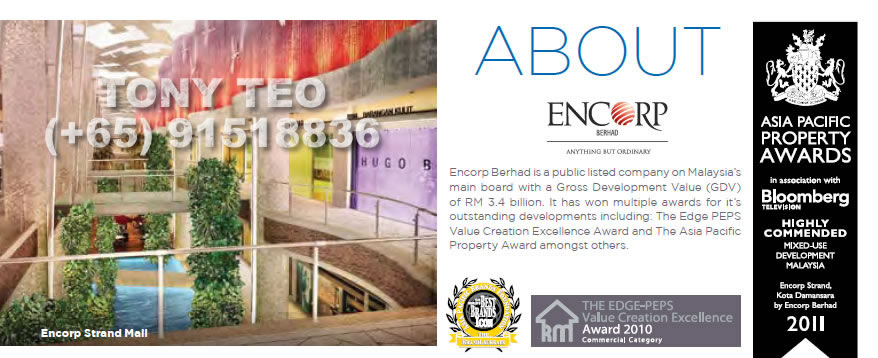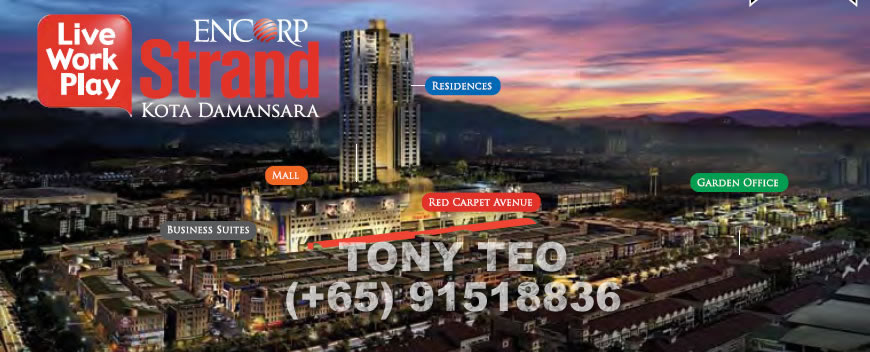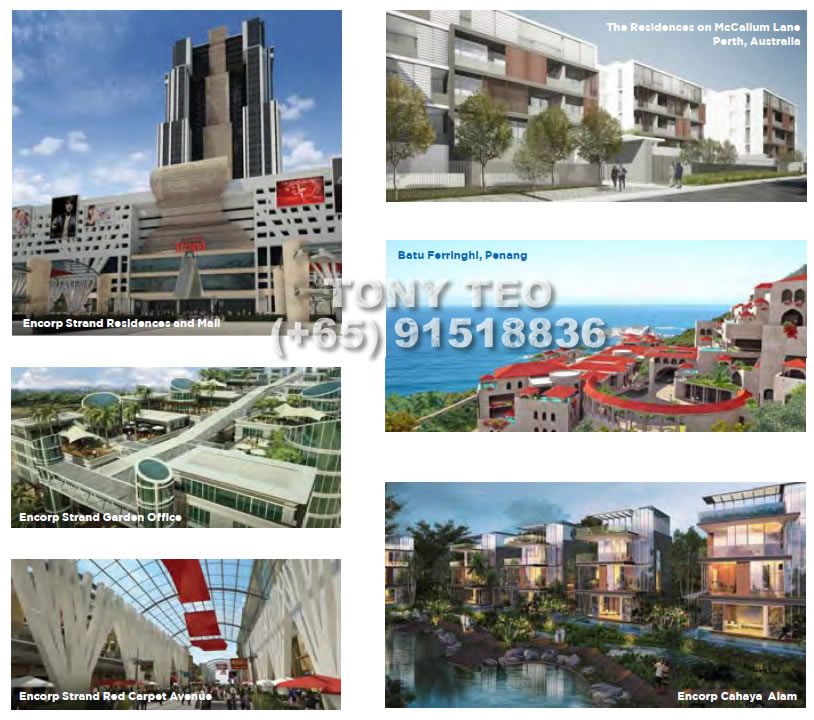 Own a world-class harbourfront property minutes from Singapore!
Interest Absorption Scheme available (no loan payment until TOP)
SMS Your Name & Email to (+65) 91518836 NOW for more info and booking!

Latest News 29 October 2012
Tower 1 was fully sold within 1 hour! Tower 2 released units sold out within days. Reserved units will be launching overseas in February 2013. Singapore buyers may be eligible without having to travel overseas! Register now for VVIP Benefits!
Call (+65)91518836 now to secure your unit!
Note: Same/standard pricing applies whether you purchase in Singapore or Malaysia
Appointed Marketing Agency
We look forward to helping you find your dream unit. Act NOW and contact us!

Contact : Tony Teo
Mobile : (+65) 9151 8836 (call or SMS)
Email : Click to email now

Register for VIP Preview or Viewing Now, or contact us for the floor plans.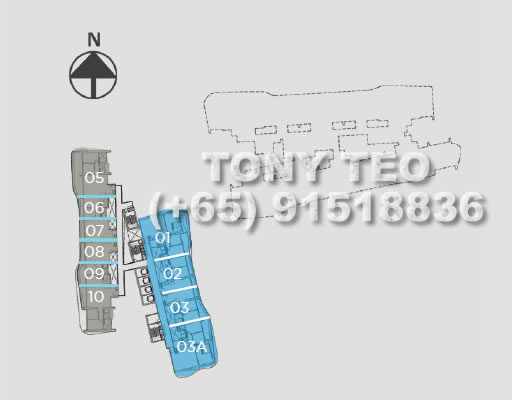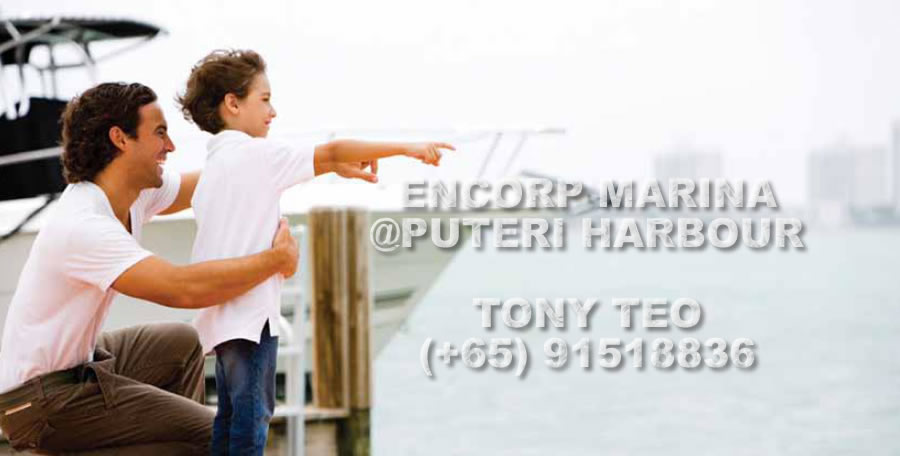 Another Super Luxury Condo at Puteri Harbour! Puteri Cove Residences - Latest launch at Puteri Harbour Iskandar Malaysia from only $3xxK!